yesterday...and, as every Thursday, the day began with a 1662 Communion service at Church on the Hill. It seemed quite strange to be using this liturgy as we thanked God for the gift that is Holy Communion.
It's not hard to imagine what Cranmer would have made of the more exuberant celebrations of catholic devotion to the sacrament, the processions with rose petals, the High Mass with Benediction...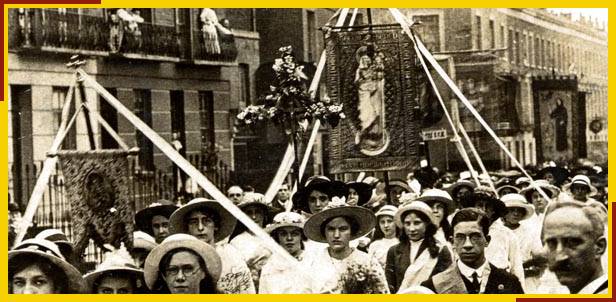 In the evening we celebrated again, down in the valley - but though the congregation here is usually willing to indulge their vicar in pretty much any kind of liturgical experiment (though I had promised that I wouldn't smoke them out two years running) we were a tiny congregation and I'd planned the service to be as straightforward as possible, as after it the Herring and I were going to walk through the liturgy in preparation for his imminent First Mass.
It was Eucharist, so of course it was special, but I did feel rather wistful for a moment as I imagined all the liturgical wonders going on in other places...I hankered for incense and the Byrd Ave Verum until I reached the homily and heard myself say
"Here God trusts us with God's self, in a fragment of bread and a sip of wine".
Then, once again, the wonder of the sacrament all but silenced me.
Lord Jesus Christ
We thank you that in this wonderful sacrament
You have given us the memorial of your passion:
grant us so to reverence the sacred mysteries of your body and blood
that we may know within ourselves

and show forth in our lives

the fruits of your redemption;

for you are alive and reign with the Father
in the unity of the Holy Spirit, one God, now and forever.