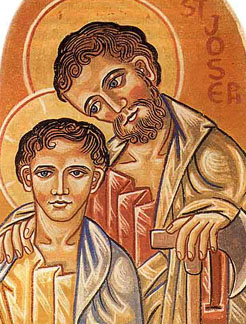 As a mother who has rather grabbed the limelight when it comes to parenting, and who is verily married to an extremely LongsufferingClockmaker, it's been good to spend a little time today thinking about Joseph. Our diocesan
Praying through Lent
resource had a splendid reflection by Doug Gay, which you'll find at Mark's Dissonant Bible
blog
* .....and Mark's whole idea of J skulking round the corner seemed all too likely and real. Here's U.A. Fanthorpe's take on the man, which has given me plenty to ponder today.
I am Joseph, carpenter,
Of David's kingly line,
I wanted an heir, discovered
My wife's son wasn't mine.


I am an obstinate lover,

Loved Mary for better or worse.
Wouldn't stop loving when I found

Someone Else came first.
Mine was the likeness I hoped for
When the first-born man-child came
But nothing of him was me, I couldn't

Even choose his name.


I am Joseph who wanted

To teach my own boy how to live.
My lesson for my foster son:
Endure. Love. Give.

*
Oh rejoice with exceeding great joy! Mark is blogging again on both his sites...if he keeps it up, I might even forgive him for changing diocese ;-)