wrote
Wilfred Owen
, in the introduction to his collected poems. To my mind, pity is only part of the story...obscenity feels closer to the mark.
LoudBoy came home last night from a trip organised through the school History department to visit the battlefields and cemeteries of the First World War, - and was predictably amazed by the whole experience. He had borrowed Longsuffering ClockMaker's camera, and as we sat round after supper he showed us shot after shot of war graves, towns and villages destroyed and rebuilt, and the endless lists of names of those whose bodies were never recovered from the Flanders mud. TeenWonder had made the same trip two years before, and the boys compared impressions while I dealt with a rising tide of outrage that any country should presume to send its youth into such carnage. LoudBoy had been chosen to lay a wreath on behalf of his school during the daily ceremony at the
Menin Gate
in Ypres and one of his friends had shot a brief video. Suddenly our conversation was halted by the sound of the Last Post, - echoing across miles and years and bringing the past straight into the present.
The youngest soldier to die in Flanders was 13,- the same age as LoudBoy,- while at 16 TeenWonder would have been ideal cannon fodder.
I held onto my sons, weeping for a while for all those women whose sons had never come home.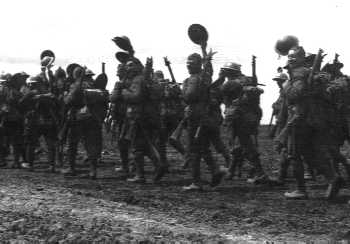 Anthem for Doomed Youth - Wilfred Owen
What passing-bells for those who die like cattle?
Only the monstrous anger of the guns.
Only the stuttering rifles' rapid rattle
Can patter out their hasty orisons.
No mockeries now for them; no prayers nor bells,
Nor any voice of mourning save the choirs,-
The shrill demented choirs of wailing shells;
And bugles calling them from sad shires.
What candles may be held to speed them all?
Not in the hands of boys, but in their eyes
Shall shine the holy glimmers of goodbyes.
The pallor of girls' brows shall be their pall;
Their flowers the tenderness of patient minds,
And each slow dusk a drawing-down of blinds.